A pre-booked weekend to Melbourne meant we had to call in the family this weekend, to feed and look after the girls. I'm happy to report that my sister Mel, and her two kids Max and Ebony, and Mum and Steven, did a fantastic job!
On Friday a lovely lady donated 6 brand new donut beds for the cats for us, so Mel and the kids removed the cat carriers out of the pen and set up these beds and some cardboard box beds as well.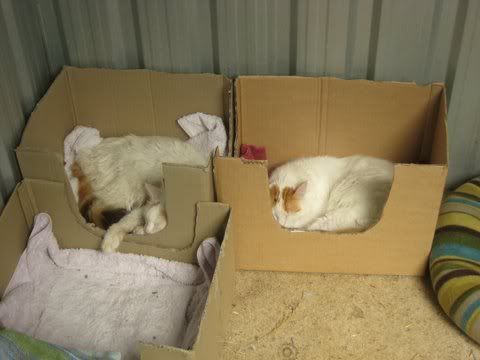 Cherry and Apple
Ash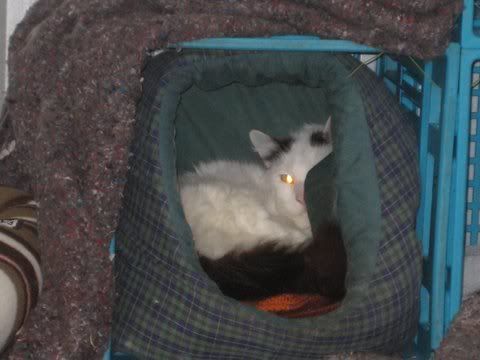 Willow, loving the igloo donated by Pagans in the Pub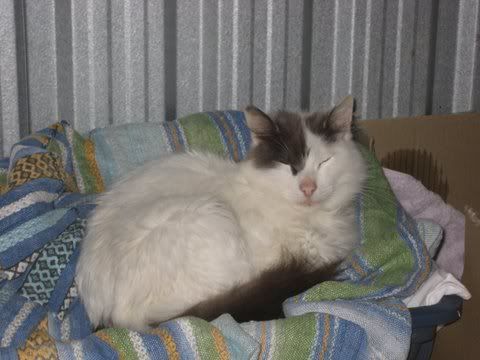 Ash, thinking the rug donated by Debbie is pretty cozy!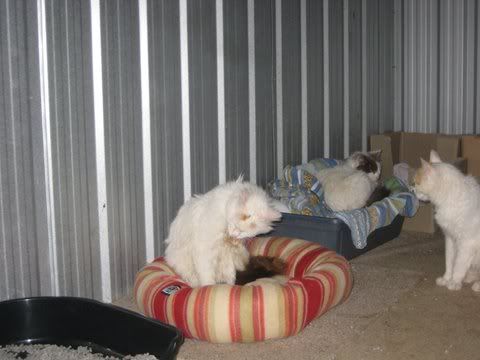 Donut beds get the snuggle of approval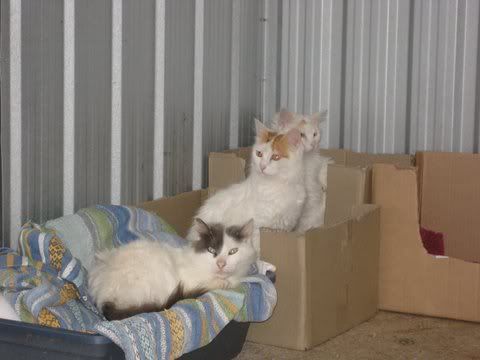 Amazingly, getting Willow out of the carrier has made all the difference! In just one day, with a lot of love and attention from the kids, she is out and about, and eating.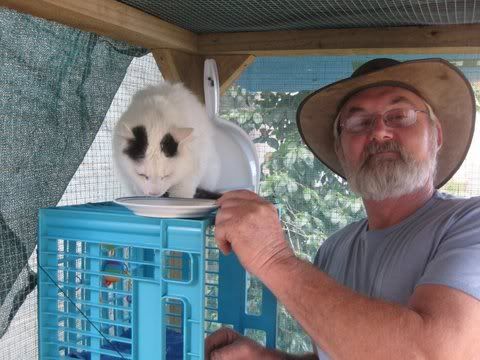 Steven, pleased as punch at Willow's progress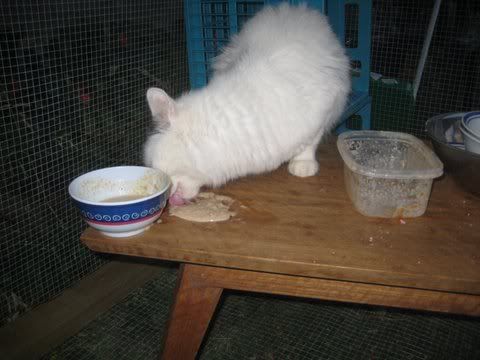 Willow loves weetbix and cat milk!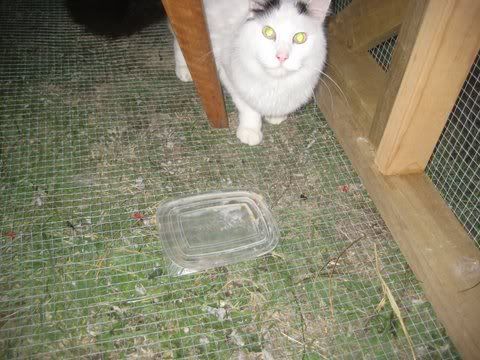 See, I'm not a scaredy cat! - Willow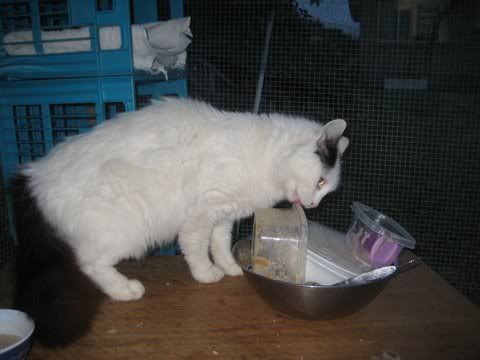 Let me do the dishes - Willow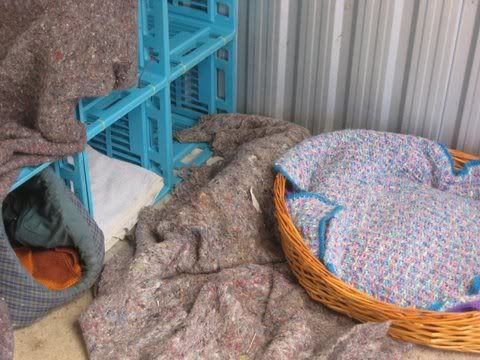 Willow the lump doesn't like cordless drills
Mel also introduced the girls to chicken necks, which has gone down a treat!
Ash is in love with the necks, reportedly hoarding 6 in the corner, happily growling away, eating 5 in a row but not being able to finish the 6th! Understandably, a 3 hour sleep afterward was required.
Mum and Steven worked hard over the weekend too, upgrading the pen's accommodation!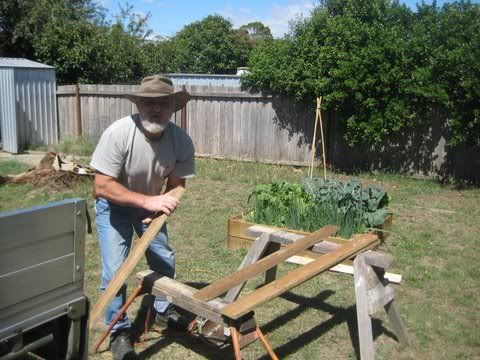 Steven cutting decking to length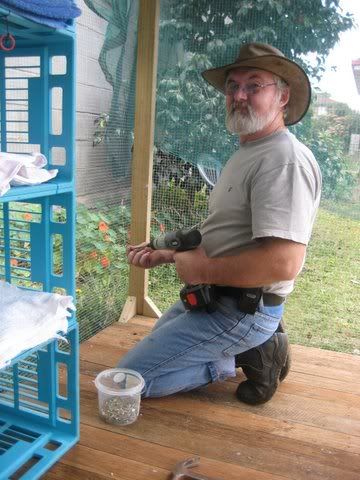 Steven laying fancy new decking
Voila! Flash new flooring to look after soft white feet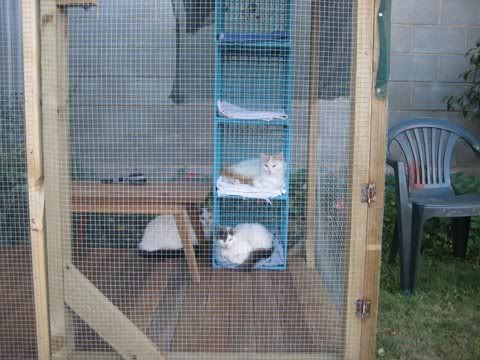 Mum has been busy as well! This lean-to was originally a storage space for junk, but look at it now!
With a sink, washing line, shelf for plates and plenty of room for food, this area will save me time, and leg work, and make the day to day chores a breeze. My mum, the amazing organiser! This wouldn't have been possible without Mum and Steven's resourcefulness. Thanks guys!
With the work area sorted, mum was free to do as she pleased: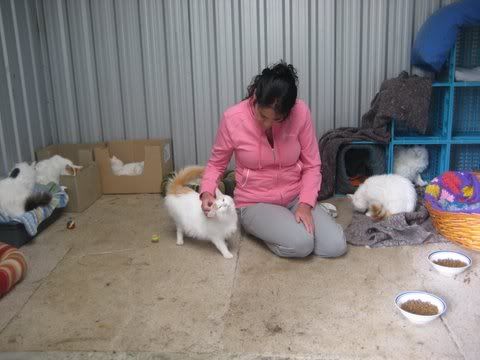 Mum and Luna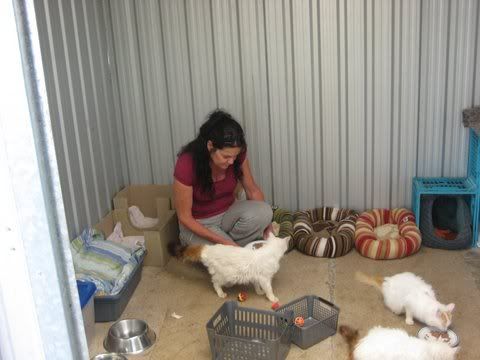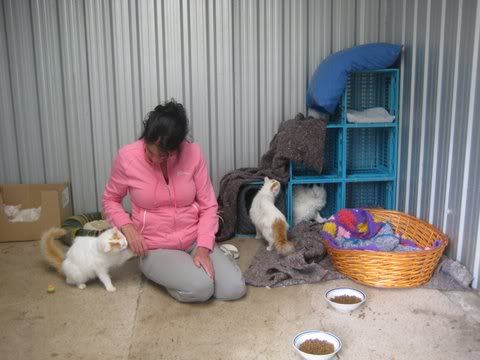 Come and play cat-nan! - Luna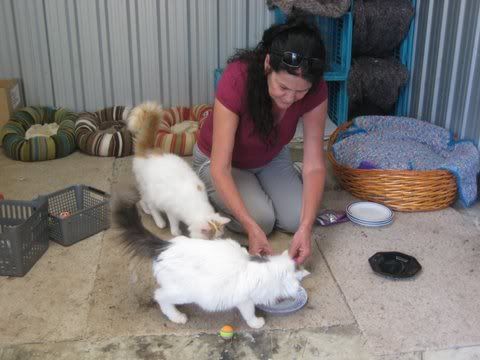 Feeding time is no longer the crazy feral ordeal it was - now, we're able to feed the cats without locking them into cages, and they just munch away like normal cats! Horah!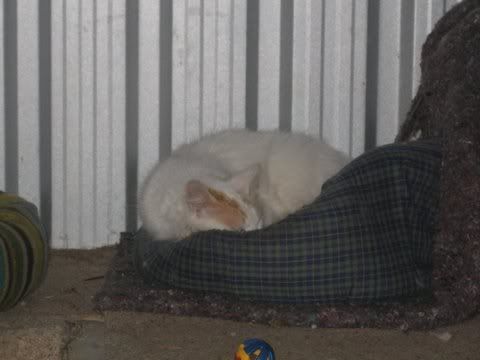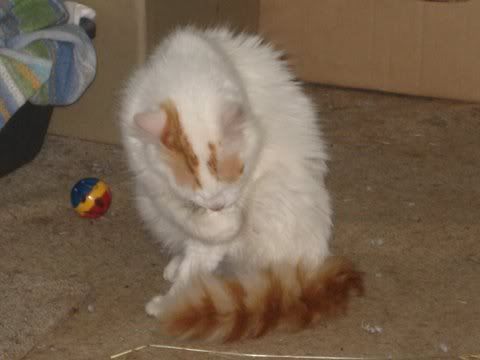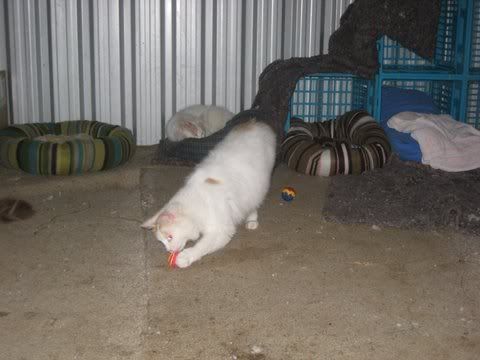 Luna loves to play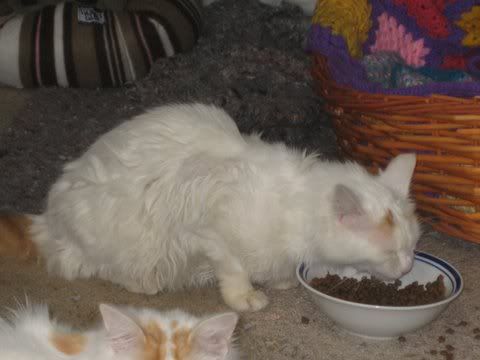 Cherry is munching away on the great kitten dry Heather donated - maybe one day she'll think grooming is a good idea too!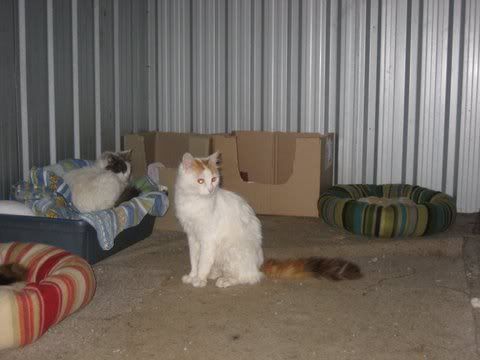 Apple shows us her naughty torti tail
Weighing these kitties wasn't as easy as expected however. It seems they have an average weight of around 2.5kg. The weighing basket is about double the size of this one, which is actually the toy holder, but it seemed Thorn likes this one better: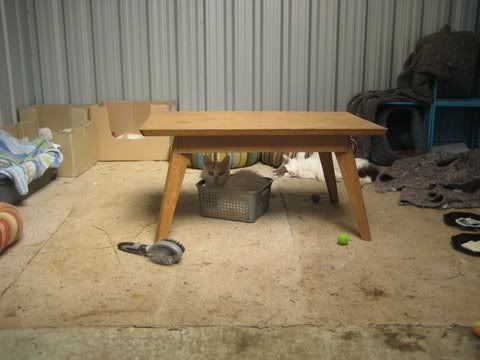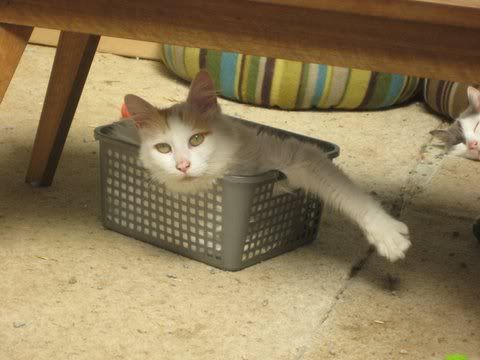 I couldn't believe the huge change I noticed in the girls when we got back on the weekend - every day we're seeing improvement, and its so good to see Willow out and about. Her new favourite spot is at the very top of the tower, taking in the views.
Today (Monday, can you believe its been a week already?!) is Day 8, another good day. The girls had visitors today - Sara from the RSPCA called in, as did Liz Bird from Hobart, fellow cat rescuer, and Liz's friend Ann. All 3 gave the tick of approval to the space and treatment of the girls, which means we don't have to split them up any time soon! This is good news, however we will be working on extending the cage area to include a second cage underneath the greengage tree.
Liz and Ann also bought up plenty of cat food, and two great big bags of bedding as well.
My good friend Rose also called in over the weekend with some donations - thanks Rose!
Also, I can confirm that Willow is desexed, and Apple or Cherry is also desexed. This means only 3 to get done, once they are ready!
It seems Thorn is feeling better now with food in her belly, and her affectionate behaviour indicates she's coming on heat soon. As one of thinner of the brood, I doubt she is ready to be desexed, but at the same time I dont have anywhere to seperate her, and I also dont want a yard full of the neighbourhood toms! So tomorrow's job is looking into a drug option to halt the calling process, to give me enough time to get her up to weight to be desexed.
I think that's all for now, I'm hoping to have some photos of Mel and the kids to share soon!